In the world of interior design, it's often the little details that make the biggest impact. The choice of decor items can transform a space from ordinary to extraordinary, and one such piece that has been making waves in the design world is the Miss One Luna Leaf Minimalist Pedestal Fruit Bowl Large. This stunning piece is available in both black and white, crafted from high-quality resin, and is designed to not only serve as a functional fruit bowl but also as a chic home decor accessory.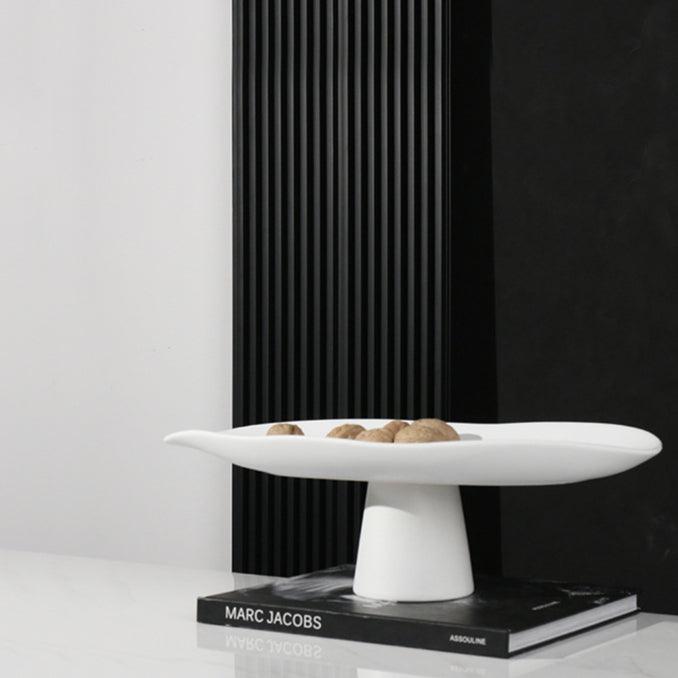 Aesthetic Elegance
The Luna Leaf Minimalist Pedestal Fruit Bowl is a testament to the power of simplicity and elegance in design. Its minimalist yet striking leaf-shaped design captures the essence of nature in a contemporary way. Whether you choose the classic black or the pristine white, this fruit bowl is bound to become a focal point in any room. The clean lines and smooth finish exude a sense of sophistication that complements a wide range of interior styles, from modern to minimalist to eclectic.
Crafted with Quality
Quality matters when it comes to home decor, and the Miss One Luna Leaf Minimalist Pedestal Fruit Bowl doesn't disappoint. Crafted from high-quality resin, this bowl is not only durable but also easy to maintain. The smooth surface is a breeze to clean, ensuring that it remains as beautiful as the day you brought it home. Its sturdy construction means it can withstand the test of time, making it an investment piece for your home.
Versatile Functionality
While it's called a fruit bowl, the Luna Leaf Pedestal Bowl is much more than that. Its size, with dimensions of Length: 46cm, Width: 20.5cm, and Height: 14cm, allows it to hold a generous amount of fruit. Whether you're showcasing a colorful array of fresh produce in your kitchen or displaying a curated selection of fruits on your dining table, this bowl can handle it with grace.
But don't limit its use to just holding fruits. This versatile piece can also be used as a decorative item to hold potpourri, ornaments, or even as a standalone sculpture. Its minimalist design allows you to get creative with how you incorporate it into your decor. Place it on a coffee table, console table, or even on a floating shelf to instantly elevate the style quotient of your space.
Aesthetic Harmony
One of the beauties of the Luna Leaf Minimalist Pedestal Fruit Bowl is its ability to harmonise with other decor elements effortlessly. Its monochromatic colour options make it a chameleon in any room, adapting to various colour schemes and design themes. Pair it with bold, colourful accents for a striking contrast or let it blend seamlessly into a minimalist, monochromatic room. However you choose to style it, this bowl is sure to make a statement.
In conclusion, the Miss One Luna Leaf Minimalist Pedestal Fruit Bowl Large is a must-have for anyone looking to add a touch of elegance and functionality to their home decor. With its high-quality resin construction, minimalist design, and versatile functionality, it's a piece that can enhance any room. Whether you're using it as a fruit bowl or as a stylish decorative item, this bowl is a symbol of simplicity and sophistication that will stand the test of time in your home. Choose between black and white to match your personal style and let the Luna Leaf Minimalist Pedestal Fruit Bowl transform your living space into a work of art.